Tweet
Posted by Brandon Haraway Categories: Disses, Props, Boston Celtics, New York Knicks, Chicago Bulls, Cleveland Cavaliers, Detroit Pistons, Atlanta Hawks, Miami Heat, Orlando Magic, Washington Wizards, New Orleans Hornets, San Antonio Spurs, Utah Jazz, Los Angeles Lakers, Phoenix Suns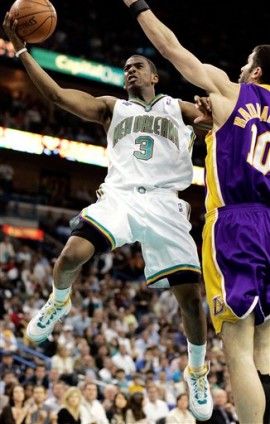 Wednesday was somewhat eventful, at least in terms of real basketball. Utah had their 12-game winning streak snapped in Atlanta, Miami upset the Celtics, and the Knicks took down the Pistons on the road in overtime. It's worth noting that Dwyane Wade had a poor shooting night, but still willed his team to a big win over the Celtics, something that I said yesterday he'd need to do before I seriously put him in my personal MVP race. Well, in my books, he's number two right now right behind LeBron James. Sorry Kobe.
Wednesday's best: Chris Paul for sure. He had a triple-double, posting 30 points, 10 rebounds, and 13 assists, along with 4 steals in a comeback win over the Wizards. If only the Hornets could get their you-know-what together, Paul would be right in the thick of the MVP race.
Wednesday's worst: Oh Ben Gordon, why must you tease us? After posting 43 points Monday, he shoots 1-10 for 4 big points in a big loss at Orlando. How you go from 8-11 from three point range Monday to 0-1 Wednesday blows my mind. Explain it to me Bulls fans. I dare you to try.
Keep an eye on: Never thought I'd say this, but… JJ Redick? He's been getting some minutes in the last two games (30 Monday and 21 Wednesday) and has averaged 11 in those two. But where you might find use for him is while streaming in the playoffs. He could be good for an assured three a gamewith the right minutes if you're in a deep league or the wire is thin.

What to watch for Thursday: TNT Thursday features Lakers at Spurs followed by Cavaliers at Suns (a game I wish I was going to). The first will be typical Lakers/Spurs, and the second will be… a blowout. I'm poredicting a big game for A) Mo Williams, B) LeBron James, or C) both of them.
Tweet
Posted by Brandon Haraway Categories: Disses, Props, Boston Celtics, Cleveland Cavaliers, Dallas Mavericks, New Orleans Hornets, Denver Nuggets, Portland Trailblazers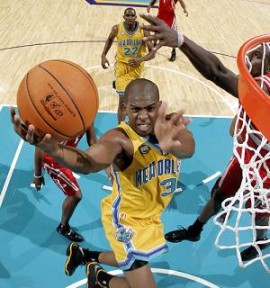 Another ho-hum Thursday on TNT saw the streaking Hornets beat Dallas and keep the 8th spot insecure and Denver win at home against the (still) Greg Oden-less Trailblazers. Of course, pickens are always slim Thursdays, but one line stood out above all.
Thursday's best: Gotta go with Chris Paul. He had 27 points, 4 rebounds, and 15 assists. More importantly, another win for the Hornets, their sixth in a row. This win gives them the four seed, and for now, home court in at least the first round.
Thursday's worst: We'll go with Josh Howard, for sitting out the second half. Certainly isn't his fault, but that doesn't mean it won't hurt fantasy owners. He still managed to jack up 10 shots (missing 7) in 18 first half minutes. Not good news.
Keep an eye on: JR Smith, who started Thursday. This is one of those guys you always look at and say "wow, he got the short end of the straw being on his coach's bad side." If he starts, 3 threes per game are possible. But he likely won't keep starting as long as George Karl is his coach.
What to watch for Friday: We're at the point where about half or more of the games on a nightly basis are interesting for playoff implications. But one Friday night matchup stands above all else: Cleveland at Boston. Oh yeah baby.
Tweet
Posted by Brandon Haraway Categories: Disses, Props, Boston Celtics, Cleveland Cavaliers, Milwaukee Bucks, Miami Heat, Dallas Mavericks, Houston Rockets, New Orleans Hornets, San Antonio Spurs, Denver Nuggets, Portland Trailblazers, Utah Jazz, Phoenix Suns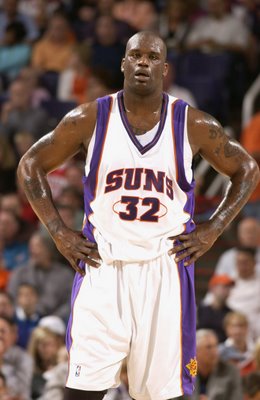 Wednesday saw Shaquille O'Neal's return to Miami, a battle of streaking Western playoff teams, a battle for Texas, and two teams clinch playoff spots. Yep, it's March, and it's exciting.
Wednesday's best: Of course it was Dwyane Wade. I think his name is permanently in this spot now. Seriously, dude is unreal. It seems every team with a star guard torches the Suns like this. Wade had 35 points, 6 rebounds, 16 dimes, a steal, a block, and a couple threes. Nice. Oh yeah, the Heat won too.
Wednesday's worst: Luke Ridnour. 0-7 from the field? That's enough to land you in this section. No wonder the Bucks lost by 18.
Keep an eye on: Daequan Cook. He erupted for 27 points on 6 threes. Performances like this might earn him more minutes. He randomly got 36 in this game, and with more minutes, he might be worth looking at for some threes in deep leagues. Just not yet though.
What to watch for Thursday: It's the worst day of the week for basketball, but at least it's two decent games. The Hornets take on Dallas in Big D, and the Blazers travel to the Mile High City to face Denver. Of course, the best part of Thursday nights is the TNT show, we all know that.
Tweet
Posted by Brandon Haraway Categories: Disses, Props, Toronto Raptors, Chicago Bulls, Cleveland Cavaliers, Detroit Pistons, Indiana Pacers, Milwaukee Bucks, Charlotte Bobcats, Miami Heat, Dallas Mavericks, Memphis Grizzlies, New Orleans Hornets, San Antonio Spurs, Denver Nuggets, Los Angeles Clippers, Phoenix Suns, Sacramento Kings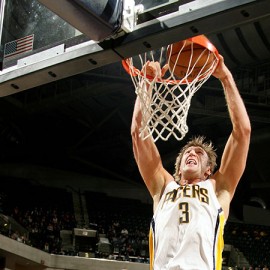 On Tuesday, the Pistons kept their hot streak going, as Chauncey Billups returned to The Palace, dropped 34, and still lost. Don't look now…
Tuesday's best: Not a whole lot of overly-impressive lines Tuesday night, but Troy Murphy takes home today's award. His line: 23 points, 10 rebounds, 6 assists, 4 threes, 2 steals, 2 blocks as he led the Pacers to a win over the Kings.
Tuesday's worst: John Salmons. Dude, Luol Deng is hurt. You're supposed to go back to being that fantasy stud you used to be. This scrub played 33 minutes in the Bulls' loss to Charlotte and scored 9 points on 4-13 shooting. SCRUB!!
Keep an eye on: The East playoff race. The 15th team (Toronto) is only 5.5 games back, and two teams (Indiana and Charlotte) look awfully good right now and keep climbing the standings. It's gonna be a fun month.
What to watch for Wednesday: Cleveland hosts Milwaukee (remember what LeBron James did to the Deer the last time they played), Dwyane Wade lights up Phoenix (like every other team, just bigger), San Antonio plays Dallas on ESPN (and probably runs them out of the arena), and last but NOT least… the Grizzlies play the Clippers!
Tweet
Posted by Brandon Haraway Categories: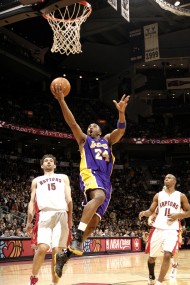 The ABC doubleheader Sunday saw both the current conference champs fall to teams who I called "has-beens" yesterday. Not only that, both were without their star point guard. Maybe, just maybe, there's something left in the tank for the Suns and Pistons. Maybe.
Sunday's best: In a losing effort, Kobe Bryant was easily the best, going off for 49 points and 11 rebounds. Also worth mentioning was opponent Matt Barnes who scored 26, and had 10 rebounds, 7 assists, 3 steals, and 5 threes.
Sunday's worst: We're gonna go with TJ Ford here. He was 2-12 from the field, scoring just 4 points with 4 assists in 29 minutes. Good news for him is that the Pacers still upset the Nuggets.
Keep an eye on: Joe Smith. He was bought out Sunday, and if he signs somewhere, he'll likely have value. This is especially true if it's Cleveland he goes too, with the Ben Wallace injury. Keep your eyes glued to see if it happens, and gladly scoop him up when it does.
What to watch for Monday: A Dallas/Oklahoma City rematch should be somewhat interesting, given the Thunder took the Mavs into OT just days ago and Jason Terry is back from injury. Also, LeBron James visits Dwyane Wade's Heat. What are the chances one of them ends up in this article tomorrow?
Tweet
Posted by Brandon Haraway Categories: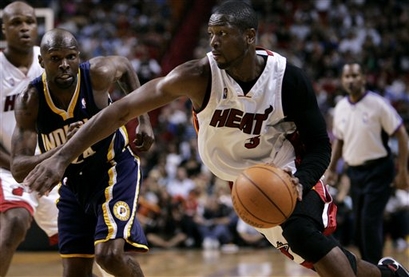 Well, happy March. The last real month of the season, and things are tight in both conferences. It's the best month to be a basketball fan for sure. One big note from Saturday: Luol Deng fractured his right tibia and could be done for the year. Ouchie.
Saturday's best: Gotta be a continual favorite here, Dwyane Wade. He almost had a triple-double, and single-handedly willed the Heat into a come-from-behind victory against the Knicks. He finished with 46 points, 10 assists, 8 rebounds, 4 steals, 3 blocks, and was perfect from the line. Wow.
Saturday's worst: Not really any bad lines Saturday, so we're gonna put teams with a lead Saturday on blast. Three games were decided by comeback victories, leaving the Knicks, 76ers, and Rockets with bad losses. This isn't the time of year to be choking away leads.
Keep an eye on: Thabo Sefolosha. He's starting in Oklahoma City and had a season high 15 points and 11 rebounds. He's going to continue playing big minutes and is likely available in your leagues.
What to watch Sunday: On national TV, two has-beens battle league leaders, as Detroit plays Boston and Phoenix hosts the Lakers. San Antonio and Portland should also be a fun one.
Tweet
Posted by Brandon Haraway Categories: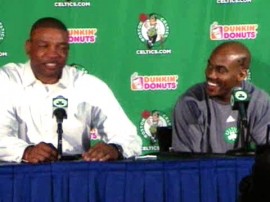 Friday night saw the return of Stephon Marbury, who played somewhat well, the Magic fall to the Pistons, Oklahoma City nearly topple Dallas in Big D, and the West's top two teams go down.
Friday's best: Gotta go with The Diesel here. The Big Shaqtus had 45 points, 11 boards, a couple dimes, three steals, and a block on 20-25 shooting. Who says he can't run?
Friday's worst: Let's go with Tony Parker here. He shot 3-16 from the field for 11 points. When Tim Duncan and Manu Ginobili are out, Parker has to step up, and he has been for the most part lately. This was a stinker, and the reason the Spurs lost at home and were getting blown out of the water for most of the game.
Keep an eye on: Marbury. He had a decent game all things considered, scoring 8 in 12 minutes on 4-6 shooting. He also had two assists, a rebound, and a steal. He turned the ball over 3 times, but that's to be expected for anyone playing their first game in any uniform. He may get more minutes and a 10-5 with a steal or so line isn't out of the question from here on out.

What to watch for Saturday: Pretty boring day Saturday honestly. Oklahoma City takes on Memphis and the Clippers host the Bobcats in two lovely toilet bowl matchups. I guess the same can be said of the Bucks playing the Wizards. Oh well, a lovely NBA Saturday.
Tweet
Posted by Brandon Haraway Categories: Disses, Props, Cleveland Cavaliers, San Antonio Spurs, Denver Nuggets, Los Angeles Clippers, Los Angeles Lakers, Phoenix Suns, Sacramento Kings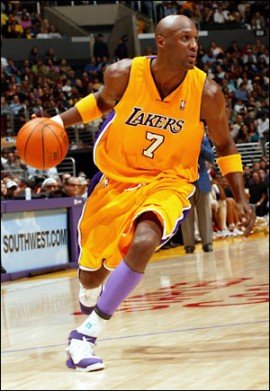 Another Thursday, another crappy couple games. The first game put me to sleep, and well, even my own team couldn't wake me up in the second game. With two games, there's pretty slim pickens for the day's best, but here it is…
Thursday's best: Lamar Odom. He had 23 points, 9 boards, and 4 assists with 3 blocks, but the impressive part was him going 11-12 from the field. The Lakers shot 54%, the Suns played without Steve Nash, and the Lakers won by 26. Go figure.
Thursday's worst: You know what, this isn't exactly a horrible line, but it's a bad game for this guy. And with two games on Thursday, he wins (or loses). LeBron James. Why? I mean the guy had 21 points. Well, he had zero assists and one rebound. No wonder the Cavs looked awful.
Keep an eye on: Anderson Varejao. Pretty nasty injury tonight to Ben Wallace, and he could miss some time. Andy V will get those minutes and produce. He might be worth a gamble in deep leagues. Grab him now before people start to wake up.
What to watch for Friday: A few really good games worth watching if you can. The Cavs take on the Spurs in Texas, and the Lakers travel to Denver for the second game of a back-to-back. And… wait for it… a little bit longer… it's coming… THE CLIPPERS AND THE KINGS!! I mean, it's an even matchup…
Tweet
Posted by Brandon Haraway Categories: Disses, Props, Boston Celtics, New Jersey Nets, New York Knicks, Cleveland Cavaliers, Indiana Pacers, Houston Rockets, San Antonio Spurs, Los Angeles Clippers, Los Angeles Lakers, Phoenix Suns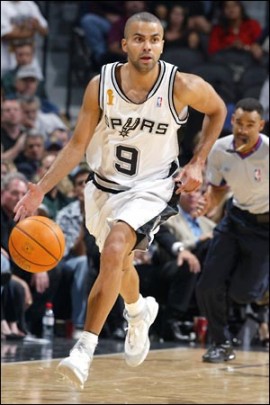 Looking over the box scores, something jumped out and screamed "HOLY MOTHER OF PEARL, IS THAT A TYPO?" Those Celtics who looked even better without Kevin Garnett lost to… the Clippers. Wow. The Clipper that lost by 40 a week ago. They beat the defending champs. Wow. Maybe Brian Scalabrine is the MVP of that team?
Wednesday's best: Very tough to pick one, so we'll pick two. Tony Parker had another great game, with 39 points, 5 rebounds, and 9 assists, with just one turnover. Devin Harris also had a great game (seriously, dude is on fire right now) with 42 points, 4 rebounds, and 6 assists. He also was 11-11 from the line and had 3 threes made. It would be unfair to also not to mention Dwight Howard's 24 points, 21 rebounds, and 4 blocks.
Wednesday's worst: Jared Jeffries. I'm a big D'Antoni guy, but seriously, why is he starting? What do the Knicks benefit by having him in there? I saw some of the Pacers game Tuesday, and this guy is a waste of a roster spot. Tonight he went off to the tune of… zero points, zero rebounds, zero ANYTHING besides his one block and five fouls. In 17 minutes.
Keep an eye on: Goran Dragic. Steve Nash is a game-time decision tomorrow, and if he misses some time, Dragic is your guy. He's played well under new coach Alvin Gentry, and even if Nash does play, he should see increased minutes while Nash gets a little more rest than usual for that bum ankle.
What to watch for Thursday: It's a TNT Thursday, which honestly kind of sucks. Cleveland and Houston might be a good game. Might be. The Lakers will likely stomp all over the Suns, especially if Nash doesn't play. Oh well, what can we really expect from a two-game Thursday schedule?
Tweet
Posted by Brandon Haraway Categories: Disses, Props, Boston Celtics, New York Knicks, Miami Heat, San Antonio Spurs, Portland Trailblazers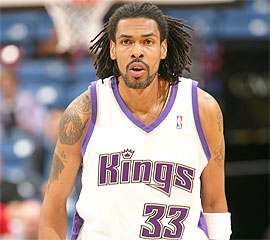 Tuesday brought a few news items. Mikki Moore signed with the Celtics, making him an interesting guy to look at, especially if he's out there in deeper leagues. Stephon Marbury was bought out in New York, which is a good thing for all parties involved. It looks like he may be headed to Boston as well. What remains to be seen is if he plays the Sam Cassell role, or a semi-significant role, as the main PG behind Rajon Rondo. Keep an eye on that.
Tuesday's best: Dwyane Wade. We talk about this guy a lot don't we? He went off for 31 points, 7 rebounds, and 16 assists. He made 8-9 from the line and 11-20 from the field too. The 6 turnovers kinda hurts, but oh well. I'll take it.
Tuesday's worst: OJ Mayo. Juice had just 7 points, 2 rebounds, and 6 assists. That's not TOO bad but he did go 3-11 from the field (1-6 from three) and turned the ball over 4 times. Definitely not typical for the Juice Man.
Keep an eye on: Daniel Gibson. He broke out of his funk to the tune of 19 points, including 3 threes. That's about it, but that's all you'd need him for. He's worth watching because if he gets hot, he's got value for sure.
What to watch for Wednesday: Close to a full slate Wednesday. Watch Boston, and how they use Leon Powe against a team with an inside presence and with Brian Scalabrine's sudden neck injury. I doubt Mikki Moore will be with the team, but who knows. San Antonio hosting Portland should be a good one as well.
© Gear Live Media, LLC. 2007 – User-posted content, unless source is quoted, is licensed under a Creative Commons Public Domain License. Gear Live graphics, logos, designs, page headers, button icons, videos, articles, blogs, forums, scripts and other service names are the trademarks of Gear Live Inc.