Posted by Brandon Haraway Categories: Injuries, Waiver Pick Ups, Boston Celtics, Phoenix Suns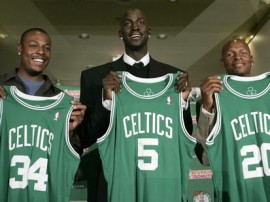 In an awful turn of events, the biggest news on deadline day and it's aftermath happened to be two massive injuries that are sure to handicap two teams and a lot more fantasy teams.
First of all, Kevin Garnett went down Thursday against the Jazz. He seemed to tweak his knee going up for an alley-oop and made sure not to land on it. After hobbling his way off the court, he went to the locker room, and later came out to warm up for the second half. According to Cheryl Miller at the game, he wanted to play, but was told not to. Now he has been sent back to Boston for an MRI and will miss the rest of the Celtics' West Coast road trip. Stephen A. Smith reported the Celtics are estimating it could be four weeks, although no official word has been out. Expect Leon Powe to start and produce. This may also intensify the Celtics reported talks with recently-waived Mikki Moore.
The first team the Celtics will face without KG, the Suns, have taken what could end up being a bigger blow. Currently 9th in the West and out of the playoff picture, the Suns lost Amar'e Stoudemire for eight weeks or more with a detached retina suffered in Wednesday's blowout against the Clippers. It's an odd injury and could sideline him longer than eight weeks when all is said and done, which would probably put Phoenix in the lottery. For now, it appears Louis Amundson will start, and on Tuesday in the first blowout against the Clippers, Lou scored 13 and ripped 8 boards with a block in 20 minutes. Given the minutes, Amundson could be pretty valuable, so I suggest grabbing him. Matt Barnes could also start, but that's probably unlikely, even with the new running style offense.
Posted by Brandon Haraway Categories: Disses, Injuries, Props, Boston Celtics, New York Knicks, Toronto Raptors, Chicago Bulls, Detroit Pistons, New Orleans Hornets, San Antonio Spurs, Denver Nuggets, Utah Jazz, Los Angeles Lakers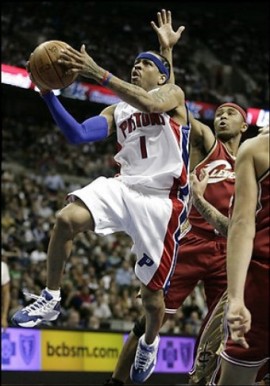 Only two games tonight, and of course one was the lovely snoozefest the NBA calls Spurs/Pistons. It was actually a good game, but I was happy enough watching the last two minutes, as I'm sure most people would be. The Celtics/Jazz game was pretty good too, pretty close throughout. Let me say, the Jazz look good. They stayed composed and when they get healthy, they'll be scary. If I'm the Lakers or Spurs, I'm hoping they climb the standings.
Thursday's best: Not a whole lot of impressive lines. Could have gone with Timmy Duncan's 18 points and 18 boards, but it was on some pretty shotty shooting (7-19). Instead, we'll give it to Allen Iverson, who went for 31 points, 3 boards, 7 dimes, a steal, and a block on 13-28 shooting. Not too shabby on an otherwise unimpressive night around the league.
Thursday's worst: Gotta be Rip Hamilton. He got 34 minutes off the bench in which he scored 4 points on 2-10 shooting. Combined with Rodney Stuckey's 2 points (although he did have 8 assists), a bad night from Rip did the Pistons in.
Keep an eye on: Kevin Garnett's injury and Gabe Pruitt. KG went down just before halftime with a "sprained knee." At the time of writing this, it's pretty cloudy just how bad it is, but if he misses any time on this road trip, the Cavs could find themselves on top in the East. With Tony Allen's injury, Pruitt will get some extra burn. He wasn't extremely effective Thursday, but keep an eye out.
What to watch for tomorrow: Toronto at New York could be pretty exciting and high scoring. The new-look Bulls take on a good Nuggets team in Chicago, so we'll see if they're really any good with Brad Miller and John Salmons. And on national TV, the Hornets visit the Lakers. Should be a doozy.
Posted by Brandon Haraway Categories: Disses, Injuries, Props, Trades, Boston Celtics, Toronto Raptors, Cleveland Cavaliers, Detroit Pistons, Milwaukee Bucks, Atlanta Hawks, Orlando Magic, San Antonio Spurs, Portland Trailblazers, Utah Jazz, Golden State Warriors, Los Angeles Lakers, Phoenix Suns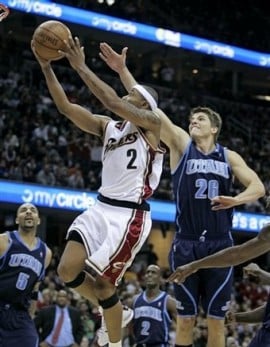 Well, look at that. A few upsets. WE HAVE PARITY IN THE LEAGUE! Toronto beat San Antonio, Utah beat the Lakers. Denver also beat Orlando at home, and was up pretty big at one point. And that battle of up-and-coming teams we alluded to yesterday? The better team in the current won quite easily. But let's jump into some lines.
Wednesday's best: Mo Williams: 44 points, 7 assists, 4 rebounds, 4 steals, and 600 three-pointers made. Ok, only 7. Yeah, he must have heard some people STILL complaining about his All-Star credentials and decided he'd go nuts. I saw this game, and he was making some incredible shots. And this folks, is why the Cleveland Cavaliers will win the Larry O'Brien Trophy. Did I just say that? In February? Yep. You heard it here first.
Honorable mention to Ramon Sessions and his 17 dimes. Wow.
Wednesday's worst: Mike Bibby and his whopping 5 points and 4 dimes on top of 3 turnovers. Somehow the Hawks still topple the Pistons. Things are bad in Detroit.
Keep an eye on: The Phoenix Suns. They lost to the Cavs tonight in their last game before their break, and probably their last game with this roster. Keep an eye on things because here's something scary: Steve Nash sat out. It was various aches and pains, and whatever else. Yeah, yeah. What worries me is that he didn't sit on the bench. Apparently he was in the locker room. Implosion pending…
What to watch for tomorrow: I wonder if anyone will actually try tomorrow. What a tough day to be a coach, when half your team is double-checking its tee times or RSVPing for parties in Phoenix. Good thing there's only three games, but two are semi-interesting. The Celtics stop in Dallas on their way to the All-Star Game, and Portland takes on Golden State. That second game would be fun to watch, but somehow it's not the TNT game. Oh well.
Posted by Brandon Haraway Categories: Injuries, Indiana Pacers, Dallas Mavericks, Minnesota Timberwolves

Seriously, when's this gonna stop?
Last night, Jason Terry left the game in the first half with what turned out to be a broken left hand. Ouchie. Looks like Juan Jose Barea is the big winner here. He's worth a look if you've got the room for sure.
Then tonight, Al Jefferson left late in the game with a knee injury. He had to be helped off the court, which of course makes us all cringe. He'll have test run tomorrow, so we'll have to wait on his status. Kevin Love should be getting a little more love as long as he's out, but again, it's too early to tell.
UPDATE: ESPN.com is reporting a torn ACL. A surgery date has not been set, and neither has any sort of timetable. But it can't be good, and that's for sure. Ryan Gomes and Love are the big winners here.
UPDATE AGAIN: Looks like it's for the year. Oh my.
Also tonight, Mike Dunleavy Jr. re-injured that right knee that forced him to miss 34 games. What rough luck. We don't know his status yet either, but we can go back to business as usual while he was out it looks like.
Posted by Brandon Haraway Categories: Injuries, Props, Milwaukee Bucks

So of course right after my injury bug post goes up, we get another lovely injury. It's Luke Ridnour. But then again, maybe people were actually HAPPY to see him go down, because of all this Ramon Session man-love fantasy owners tend to have.
Well hopefully you either kept him all this time, or grabbed him when you heard about Michael Redd because he just went nuts. How nuts you say? Big nuts. Chuck-Norris-potato-sack-nuts. His final line:
44 points, 12 assists, 5 rebounds, 13-18 FG, 18-21 FT.
Holy crap. He was hot with Redd out, and now he may be scary hot with Ridnour out.
Posted by Brandon Haraway Categories: Injuries, Waiver Pick Ups, Philadelphia 76ers, Toronto Raptors, Milwaukee Bucks, Orlando Magic, New Orleans Hornets, Denver Nuggets, Los Angeles Lakers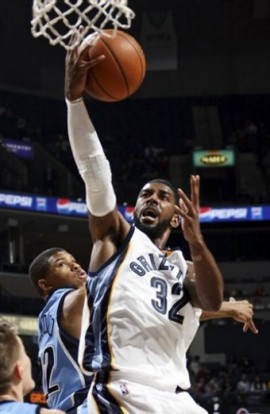 It's that time of year again! No, not Single's Awareness Day. No, not the All-Star Break. It's that magical time that inevitable occurs every year when seemingly every relevant baller gets hurt. It's here in full effect, and let me tell ya, it sucks. Here we go again…
Elton Brand
This just broke this afternoon. This morning, it was a day-to-day sprained shoulder. Now, it's season-ending surgery. Sweeeeet. Yesterday ESPN reported that an MRI showed it was healing, too. So who steps up? Reggie Evans baby. He's long been a favorite of mine in fantasy, and with even 25 minutes we could see double digit rebounds often. Go grab him now before everyone else catches on. Marreese Speights should get a little extra burn too, and could be worth a look if you're desperate. Brand is probably safe to cut, but it might be smart to wait another day or two to make sure this is all definite.
Catch the rest of the recent injuries after the jump!
The Fig Cap: Yeah… how's that working out for ya?
Click to continue reading Injury Bug Bites, And It Hurts

Posted by Scott Sargent Categories: Free Agency, Injuries, Roto, Talent, Waiver Pick Ups, Indiana Pacers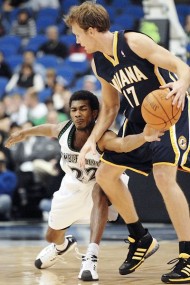 Nearly forgotten swingman Mike Dunleavy Jr. may be close to making a start for the Indiana Pacers.
After being sidelined for the entire season thus far with a knee injury, Dunleavy has started practicing and is up to a reported 20 minute sessions. The next step is obviously going to be five-on-five contact drills, ensuring that the knee is alright and that Dunleavy himself is up to par from a conditioning standpoint.
Not that I expect a complete fall-off of the other Pacers, but this obviously means not-so-good things for other scoring options like Danny Granger and Marquis Daniels. Daniels owners may want to start sticking some trade feelers out as he's in line to take the biggest hit from the pending Dunleavy return.

Posted by Scott Sargent Categories: Free Agency, H2H, Injuries, Pacific Division, Golden State Warriors, Rumors, Waiver Pick Ups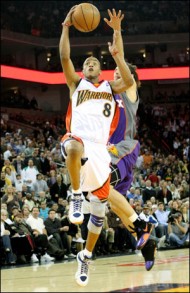 Though still recovering from his moped-turned-busted ankle, Monta Ellis has been activated by the Golden State Warriors after serving his 30-game suspension for violating "team policy." If you remember correctly, Ellis signed a six-year deal that will ultimately pay him a hefty chunk of change; one that he can now start collecting on.
The guard can now begin taking part in team activities and will likely do so when the Warriors return from their road trip. Expect Ellis to start running some time after the Christmas holiday, and perhaps earning some playing time near the beginning of January. With that said, the dual-eligible guard deserves a roster spot in nearly every league at this point. Low risk, high reward, if you will.

Posted by Scott Sargent Categories: H2H, Injuries, Roto, Southeast Division, Atlanta Hawks, Talent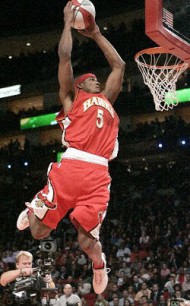 After missing a dozen games with an ankle injury, Hawks forward and all-around fantasy stud Josh Smith will be back in uniform for tonight's game against Memphis. Though, if you have him on your roster and have other options given all of tonight's games, you may want to think twice about starting him.
"That's the big emphasis right now is to try not to overdo it because I'm so excited to be back," Smith said. "That's just a part of listening to your body and knowing how many minutes your body can take the first night back. And I won't lie, my body will have to tell me because in my mind, I want it all back right now."
Click to continue reading This Should Help Your Blocks and Steals

Posted by Scott Sargent Categories: Injuries, Rookies, New York Knicks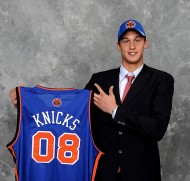 While I'm thinking that there were not many of you banking on a successful season from rookie Danilo Gallinari, I couldn't help but point out another great draft by the New York Knicks.
Bothered by a bulging disc in his back, Gallinari has had an MRI and things are not looking good.
"His back just flared up again," Coach Mike D'Antoni said. "He was making progress, and then one morning he said he couldn't put his pants on."

Test results were not immediately available. Team officials are hopeful that Gallinari can avoid surgery, but they cannot rule it out.
Now given that Gallinari would be wearing warm-ups for most of the game, the ability to put pants on is pretty vital. Wilson Chandler, Quentin Richardson and David Lee benefit the most from this news. I'd like to include Jared Jeffries here, but he's Jared Jeffries.
And here is where I remind Knicks fans that Eric Gordon, D.J. Augustin, and Jerryd Bayless were all available with the sixth overall selection.
© Gear Live Media, LLC. 2007 – User-posted content, unless source is quoted, is licensed under a Creative Commons Public Domain License. Gear Live graphics, logos, designs, page headers, button icons, videos, articles, blogs, forums, scripts and other service names are the trademarks of Gear Live Inc.