Posted by Scott Sargent Categories: News, Trades, Charlotte Bobcats, Phoenix Suns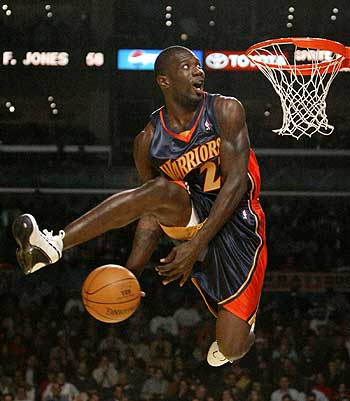 I knew that the Suns and Bobcats were recently placing their players on the respective trading block, but I am admittedly surprised to see the multi-player deal that went down between the two teams. With Charlotte getting Raja Bell, Boris Diaw and Sean Singletary for shooting guard Jason Richardson, forward Jared Dudley and a draft pick, we have some changing landscapes among the ranks.
Click to continue reading Trade Reaction: Suns/Bobcats

Posted by Scott Sargent Categories: Editorial, News, Site Announcements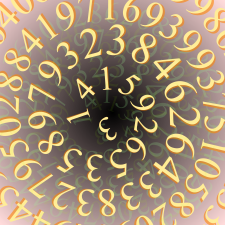 Friends, Romans, non-Romans, and everyone else… Lend us your ears!
I'd like to direct your attention to the recent release of Give Me The Rock's 2008-09 Fantasy Basketball Draft Guide. Our good friends over at GTMR have busted their hump for the last few months, sifting through countless statistics, trends and photos of Celtics dancers - all of which not only grace their site daily, but will help you get through the upcoming fantasy season with utmost success. And the dancers will just help you get through the next month or so, as we all await the season to arrive.
So, squander time no longer - head over to GMTR to get your copy of their Draft Guide today. Best of luck, all.

Posted by Scott Sargent Categories: Atlantic Division, Toronto Raptors, H2H, Injuries, News, Roto, Talent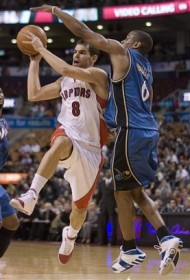 And you all wonder why I despise any sort of extra curricular basketball…
From the Toronto Star:
Jose Calderon will not play for Spain today in the Olympic men's basketball semifinals.

The Raptor point guard has what's being called a partial tear of the adductor muscle, an injury revealed after an MRI here on Thursday.

Toronto officials are following up with Spanish doctors to discover the severity of the injury, treatment options and a prognosis.
Obviously, there is plenty of time for Calderon to heal up. But with the Raps trading away TJ Ford, this is something that the team can ill afford. Don't move him too far down your rankings quite yet, but Toronto's assist machine will definitely be on the shelf for a few weeks.

Posted by Scott Sargent Categories: Free Agency, H2H, News, Props, Roto, Rumors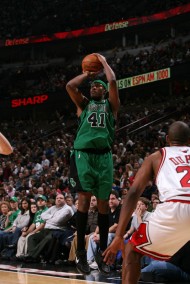 Man, you take a week off for some much-needed vacation time and you come home to a world of basketball craziness. Unsigned free agents looking overseas? Huge names continuing to be on the move?
And with our mock draft coming up, all of these transactions, or would-be transactions, will impact you on draft day. Sure, your football drafts are right around the corner, but why not take a break and study the hoops?
The Move: James Posey to New Orleans
Fantasy Impact:
Click to continue reading Transactions Reactions

Posted by Scott Sargent Categories: Free Agency, News, Roto, Rumors, Talent, Boston Celtics, Cleveland Cavaliers, Detroit Pistons, Los Angeles Clippers

While Bill Plaschke pours his heart out to Elton Brand in L.A. and Golden State fans are still hoping they're just in a bad dream, the rest of the NBA is looking at the rest of the free agent pool - with one of the bigger names out there being a former Clipper in Corey Maggette.
Magg's fantasy value has always been in his scoring efforts as well as his contributions in terms of efficiency. One of the better free throw shooters in the league, Maggette typically finds a way to get to the rack or cash in from the stripe if hindered. Never much of a rebounder or defender..or three-point shooter for that matter… some have been a bit touchy with drafting someone that could only help in select categories.
But this value may be on the rise (or the fall) depending on where Maggette lands…
Click to continue reading About Corey Maggette

Posted by Scott Sargent Categories: Free Agency, News, Talent, Cleveland Cavaliers, Golden State Warriors, Los Angeles Clippers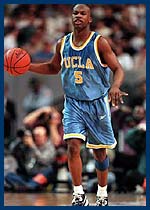 Wow, that didn't take long. As discussed briefly yesterday, Baron Davis looks to be relocating intrastate, as he has reportedly agreed to terms with the Los Angeles Clippers. While Bill Simmons picked a crummy year to not renew his season tickets, the Clips could be looking at a starting five of Davis, Cuttino Mobley, Quinton Ross, Elton Brand and Chris Kaman.
Yes, I left Corey Maggette off of that list as his money will likely now have "Baron Davis" written on the paycheck. As Nels broke down here, this doesn't exactly bode well for those that were planning on using an early pick to select Davis in the fantasy world. Even worse if you were counting on Brevin Knight.
Click to continue reading Exodus from the Bay?

Posted by Scott Sargent Categories: Free Agency, H2H, News, Props, Rookies, Roto, Site Features
(Editors Note: Apologies for the tardiness of this post. While Brandon was punctual as usual, I'm late in pinch-hitting the posting of his piece. Try saying that five times fast.)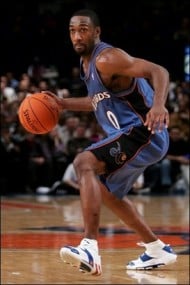 So, next week is the first week of the league finals in most formats. Hopefully you are still alive, and even more so, hopefully you've had fun this season. For me personally, this was my best and most fulfilling fantasy season to date. Take a long look at that roster, see what you can dump, see what you can move around, and take a look at who's hot and who's not, because these final two weeks are what it's all about. This week I'll try and focus on guys who you may still be able to pick up.
Here's next week's slate of games (4/7-4/13):
Click to continue reading Beyond The Arc - Week 24

Posted by Scott Sargent Categories: Editorial, News, Props, Site Announcements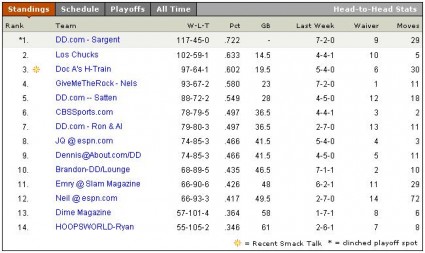 I realize that the picture may be a bit rough to decipher. Thus, here are the updated standings, in text form:
*1. DD.com - Sargent 117-45-0 .722 - 7-2-0 9 29
2. Los Chucks (Dwyer) 102-59-1 .633 14.5 4-4-1 10 5
3. Doc A's H-Train (RotoWorld) 97-64-1 .602 19.5 5-4-0 6 30
4. GiveMeTheRock - Nels 93-67-2 .580 23 7-2-0 1 11
5. DD.com—Satten 88-72-2 .549 28 4-5-0 12 18
6. CBSSports.com 78-79-5 .497 36.5 4-4-1 3 2
7. DD.com - Ron & Al 79-80-3 .497 36.5 2-7-0 13 11
8. JQ @ espn.com 74-85-3 .466 41.5 5-4-0 4 3
9. Dennis About.com/DD 74-85-3 .466 41.5 4-5-0 5 11
10. Brandon-DD/Lounge 68-89-5 .435 46.5 7-1-1 2 10
11. Emry @ Slam Magazine 66-90-6 .426 48 6-2-1 11 29
12. Neil @ espn.com 66-93-3 .417 49.5 2-7-0 14 72
13. Dime Magazine 57-101-4 .364 58 1-7-1 8 6
14. HOOPSWORLD-Ryan 55-105-2 .346 61 2-6-1 7 8

Thanks to huge weeks by Manu Ginobili and Mo Williams, I was able to overcome a slow start to last week to become the first team locked into a playoff spot.
Seeds four-through-six seem to still be up for grabs. Ron and Al are right there with CBS Sports, with JQ and Dennis not far behind. Brandon needs one heck of a run, but he's come a long way after getting hit with a barrage of injuries.
Regarding Doc A. If you recall when we last updated the league, he and I were locked in a first place tie. Since then, its been a bit rough for him, with injuries to Chris Kaman and TJ Ford, coupled with the slowing down of Jason Terry and LaMarcus Aldridge. Even better is the fact that he has Chris Webber in his Util. spot for this week. Should definitely be interesting.
Dark horse of the league? Has to be Nels from GiveMeTheRock. Kelly Dwyer has a good chance at falling out of that second slot by the time the tourney is set. Yao Ming's injury is a crushing blow to his post players. His starting C's this week consist of Troy Murphy and Jeff Foster. At least he has the Indy market cornered!
Posted by Brandon Haraway Categories: Disses, Editorial, H2H, Injuries, News, Props, Roto, Waiver Pick Ups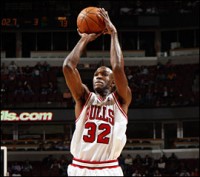 I dunno if anyone's been following REAL basketball (I know, I know, we aren't supposed to care about that) but maybe you should take a look at the standings. Some weird stuff is going on. Washington a four seed? What? Portland a three seed? Utah and Houston out of the playoffs? I know it's early, but wow. Nobody called that in September and October. But good for those up and coming teams (although I'm not so sure you can call the Wizards that).
Anyways, I'm done ranting, here's the slate of games for next week: (1/14-1/20)
The Fig Cap: How old are you anyway?
Click to continue reading Beyond the Arc: Week 12

Posted by Scott Sargent Categories: H2H, Injuries, News, Props, Roto, Site Features
(Editors Note: Brandon is traveling this week, so I'm just publishing his work from this weekend. Do enjoy.)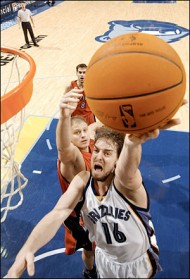 Aloha from Hawaii! I'm here on the Garden Island Kuaui just before the holidays. If you plan on flying somewhere for the holidays, I pity you.
Does it seem to you guys like fantasy basketball season is entering that "ho-hum" stage every fantasy season eventually enters? Maybe it's just me, but things seem really boring in the NBA. Let's blame the Mitchell Report and football playoffs for that. In any case, here we are in the event you've become too bored with it to pay much attention as the holidays approach us.
Click to continue reading Beyond the Arc - Week 9
© Gear Live Media, LLC. 2007 – User-posted content, unless source is quoted, is licensed under a Creative Commons Public Domain License. Gear Live graphics, logos, designs, page headers, button icons, videos, articles, blogs, forums, scripts and other service names are the trademarks of Gear Live Inc.