Posted by Brandon Haraway Categories: Disses, Props, Rumors, Boston Celtics, New Jersey Nets, New York Knicks, Dallas Mavericks, Houston Rockets, San Antonio Spurs, Denver Nuggets, Portland Trailblazers, Utah Jazz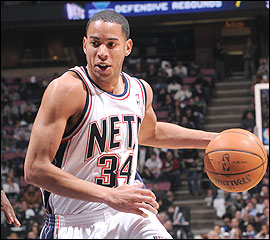 Not much surprising Monday in terms of box score, but before you read on, please go watch this. You'll see why in a second.
Monday's best: Did you watch it? Wow. The line Devin Harris put up tonight: 39 points, 2 rebounds, 8 assists, 5 threes, 2 steals, a block, 11-22 from the field, and 12-14 from the line. Also worth mentioning was the line Nate Robinson was putting up at the same time across town. KryptoNate went off for 41 points, 8 rebounds, 3 assists, 4 threes, 2 steals, 11-18 FG, and 15-19 from the line. Couple more points, rebounds instead of assists, one fewer three and block, but better FG%. Pretty close, but not much tops that shot from Harris.
Monday's worst: Chauncey Billups. No wonder the Nuggets got bulldozed by the defending champs. In 34 minutes, Billups had 3 points, 5 assists, and 4 turnovers. He was 1-8 from the field and ended up a team low -38 at the end of it all.
Keep an eye on: The Utah Jazz. They got Carlos Boozer back tonight, and they're playing good ball. Now they have a purpose, and with the West so tight, they could really climb that ladder. They are a scary team for sure.
What to watch for Tuesday: Two good games will be Mavericks/Spurs and Portland/Houston. No Greg Oden vs. Yao Ming, but oh well. Also, word has it that Mikki Moore is signing with the Celtics tomorrow. He'd be worth a pickup probably, at least if you have the spot to spare. Interestingly, Mike D'Antoni will miss practice Tuesday to attend an arbitration hearing for Stephon Marbury. Might the Celtics be interested in him as well if the meeting spurs a buyout? Hm…
Posted by Brandon Haraway Categories: Rumors, Trades, New York Knicks, Toronto Raptors, Chicago Bulls, Detroit Pistons, Miami Heat, New Orleans Hornets, Portland Trailblazers, Phoenix Suns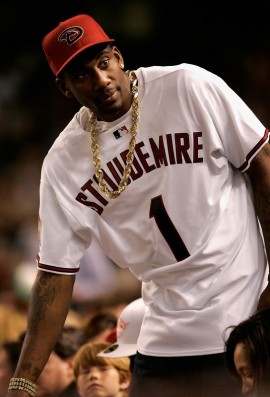 A flurry of trade rumors have surfaced recently with the deadline now just less than two weeks away. That being said, let's take a look at some of the newer and more credible rumors and what they may mean to your fantasy team.
Amar'e Stoudemire
Oh boy, where do we start here? He's rumored to be going anywhere from New York to Detroit to Toronto to Portland to Chicago. Various outlets have reported GM Steve Kerr's willingness to deal anyone on the team not born in Canada. Besides STAT, Shaquille O'Neal is also rumored to be on the block (along with the whole team), but chances are even his All-Star season can't make up for the contract he's carrying around. While possible, that seems a little less likely.
The Fig Cap: What jersey will he be wearing on Opening Day?
Click to continue reading Trade Winds Blow, Are Your Teams Ready?

Posted by Scott Sargent Categories: Free Agency, H2H, Injuries, Pacific Division, Golden State Warriors, Rumors, Waiver Pick Ups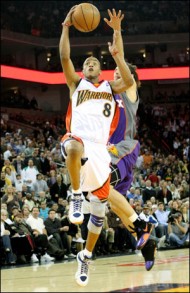 Though still recovering from his moped-turned-busted ankle, Monta Ellis has been activated by the Golden State Warriors after serving his 30-game suspension for violating "team policy." If you remember correctly, Ellis signed a six-year deal that will ultimately pay him a hefty chunk of change; one that he can now start collecting on.
The guard can now begin taking part in team activities and will likely do so when the Warriors return from their road trip. Expect Ellis to start running some time after the Christmas holiday, and perhaps earning some playing time near the beginning of January. With that said, the dual-eligible guard deserves a roster spot in nearly every league at this point. Low risk, high reward, if you will.

Posted by Scott Sargent Categories: Free Agency, H2H, News, Props, Roto, Rumors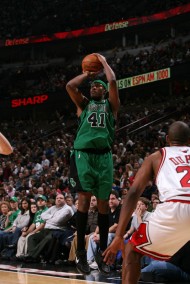 Man, you take a week off for some much-needed vacation time and you come home to a world of basketball craziness. Unsigned free agents looking overseas? Huge names continuing to be on the move?
And with our mock draft coming up, all of these transactions, or would-be transactions, will impact you on draft day. Sure, your football drafts are right around the corner, but why not take a break and study the hoops?
The Move: James Posey to New Orleans
Fantasy Impact:
Click to continue reading Transactions Reactions

Posted by Scott Sargent Categories: Free Agency, News, Roto, Rumors, Talent, Boston Celtics, Cleveland Cavaliers, Detroit Pistons, Los Angeles Clippers

While Bill Plaschke pours his heart out to Elton Brand in L.A. and Golden State fans are still hoping they're just in a bad dream, the rest of the NBA is looking at the rest of the free agent pool - with one of the bigger names out there being a former Clipper in Corey Maggette.
Magg's fantasy value has always been in his scoring efforts as well as his contributions in terms of efficiency. One of the better free throw shooters in the league, Maggette typically finds a way to get to the rack or cash in from the stripe if hindered. Never much of a rebounder or defender..or three-point shooter for that matter… some have been a bit touchy with drafting someone that could only help in select categories.
But this value may be on the rise (or the fall) depending on where Maggette lands…
Click to continue reading About Corey Maggette

Posted by Scott Sargent Categories: Free Agency, Rumors, Talent, Washington Wizards, Golden State Warriors, Los Angeles Clippers
By now, you've likely heard that a few of last season's top producers (and one that should have been pre-injury) have decided that they will test the free agency waters.
Obviously, this will have a vast impact on the upcoming fantasy season. Rumors have it that Baron Davis will look at the Clippers, with the possible addition of Gilbert Arenas in Golden State? It's a crazy world we live in; this I know.
Stay tuned to see where these players land, as we're seeing some serious cash being left on the respective tables. And if you have time to kill, head to Disney World. You may just run into a future top-three fantasy pick!
Click to continue reading Free Agents! They're Everywhere!

Posted by Scott Sargent Categories: Editorial, Free Agency, H2H, Roto, Rumors, Talent, Golden State Warriors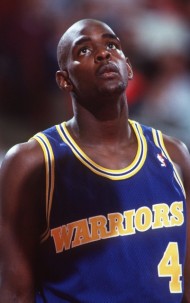 ♪♪♪♪...Oh…We're Half Way There….♪♪♪♪
Almost as a little addition to yesterday's Wire to Wire, I wanted to add two new names that you fantasy folks may want to keep an eye on: Chris Webber and Earl Boykins.
Webber has officially signed with the Golden State Warriors, despite many people still wondering exactly "why." While Webber is undoubtedly older, slower and in all-around worse shape than he was a year ago when he gallivanted around Detroit, Golden State seems to be a breading ground for fantasy relevance. As of now, I think C-Webb will have more of a negative impact on the fantasy value of others (see Biedrins, Andris and Harrington, Al) - but this doesn't mean he should be counted out. Don Nelson may make this thing work!
Click to continue reading Chris Webber and Earl Boykins: Living On A Prayer

Posted by Matt Satten Categories: Editorial, Props, Rookies, Roto, Rumors, Talent, Waiver Pick Ups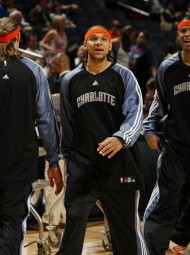 Cause I totally blew it with not getting up a Daily yesterday, I'm going extra big with tonight's version. Please accept this humble offering with my sincere apologies and a pledge to do better next time. I suddenly feel like Tony Kornheiser. Um, yeah.
Anyway, a new name in fantasyland you'll read about after the jump is this dude on the right, Jared Dudley. He now starts for Charlotte. He's fun to watch. More importantly, his StatTracker line lighting up is fun to watch as well. Yeah, I know, but that's what gets me excited these days.
The Fig Cap: I don't have to wear warm-ups at the tip anymore!
Click to continue reading Dropping Dimes on the Daily – December 4, 2007

Posted by Scott Sargent Categories: Free Agency, News, Rumors, Miami Heat, Dallas Mavericks, Houston Rockets, Portland Trailblazers, Los Angeles Clippers
I'm not sure where I went wrong, but while I'm sitting here in an office that faces a parking garage, Steve Francis is not only fresh off of a $30 million buyout, but he's now the NBA's newest free agent. A free agent that's likely to sign a deal with a very good team, for even more money.
The Miami Herald reports that "Franchise" cleared waivers last night and will now test the free agent market. Conveniently, Francis has narrowed down his list of possible destinations. Here's a hint: Milwaukee is not on the list.
Of the four teams that the veteran has chosen to be possible suitors, three of them are Western Conference teams looking to go a bit further in the playoffs than their past suggests, and one Eastern Conference team that I hear has a fairly nice beach scene near by.
Click to continue reading The Rich Get Richer: Steve Francis, Free Agent

Posted by Scott Sargent Categories: Editorial, Rookies, Rumors, Trades, Milwaukee Bucks
What can I say? I'm itching to start dropping more and more science, so deal with this quick piece - I promise we'll get rolling here soon!
ANYWAYS - Reports circulated today that Milwaukee Bucks draft pick, and sixth overall selection Yi Jianlian will not be coming to Milwaukee this season. Not surprising news by any means given that Jianlian hasn't contacted any reps of the Bucks since draft night. Within the report, the Chinese representatives said the following:
"This is not—as media reports have said—because Milwaukee, as a city with very few Chinese people, is not good for Yi's commercial development," Chen said. "Rather we want to find a team suitable for Yi's growth. That's the root of the problem"
Well, even with this news being denied by Milwaukee, there will undoubtedly be some fantasy fallout.
Click to continue reading Yi Jianlian, Milwaukee Bucks, We Hardly Knew Ya
© Gear Live Media, LLC. 2007 – User-posted content, unless source is quoted, is licensed under a Creative Commons Public Domain License. Gear Live graphics, logos, designs, page headers, button icons, videos, articles, blogs, forums, scripts and other service names are the trademarks of Gear Live Inc.