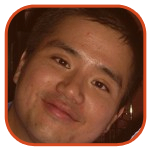 Posted by Alvin Lai Categories: H2H, Site Announcements, Talent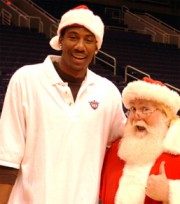 Yahoo leagues give fantasy GMs access to something they call "MVPs"; check it out if you ever have a chance. This tool looks at how many times a player makes up part of a roster in the top 500 public leagues. They have separate analyses for rotisserie and head-to-head leagues. Since our experts league is h2h, the focus is on that here.
Not surprisingly, a consensus top four pick headlines the list. Consider it an early Christmas if you are currently riding high with Amare Stoudemire packing lots of punch to your team. Interestingly, among the top 500 teams in public h2h leagues, Amare can be found on only 21.0% of them which translates into one in every five teams. According to "MVPs" here is a team of the players most connected to success after two weeks of play.
Click to continue reading Early H2H MVPs?

Posted by Scott Sargent Categories: Editorial, News, Site Announcements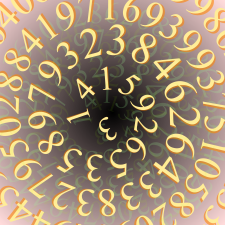 Friends, Romans, non-Romans, and everyone else… Lend us your ears!
I'd like to direct your attention to the recent release of Give Me The Rock's 2008-09 Fantasy Basketball Draft Guide. Our good friends over at GTMR have busted their hump for the last few months, sifting through countless statistics, trends and photos of Celtics dancers - all of which not only grace their site daily, but will help you get through the upcoming fantasy season with utmost success. And the dancers will just help you get through the next month or so, as we all await the season to arrive.
So, squander time no longer - head over to GMTR to get your copy of their Draft Guide today. Best of luck, all.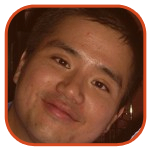 Posted by Alvin Lai Categories: Site Announcements, Talent, Boston Celtics, Charlotte Bobcats, Houston Rockets, San Antonio Spurs, Portland Trailblazers, Los Angeles Clippers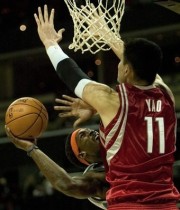 Props to Sarge for his piece that landed on Yahoo sports. If you are into baseball, check it out. I asked Sarge for his secret to success once. He said it helps to be really, really, really good looking. We all can't be Zoolanders like Sarge, but we can keep things rolling on in our two-on-two tourney.
Yao Ming continues to sit out of this year's playoffs. His Houston Rockets showed some guts by winning Game 3 in Utah, but they now head home down 3-1. Regardless of the the goings on in the real world, his name has been called to step onto the court for our tourney, where we assume he is at full health and in peak condition. Who gets to partner up with Yao? Check it out.
Click to continue reading Dropping Dimes Two-on-Two Tourney: Round 1, Games 5 and 6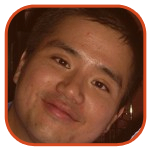 Posted by Alvin Lai Categories: NBA Playoffs, Site Announcements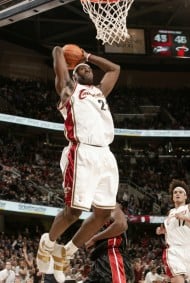 The GMs in my main league gathered last night for our first ever auction draft for our playoff pool. In years past, we would randomly set a draft order and pick players in a serpentine fashion. However that always seemed a bit unfair to the people drafting later in the order.
The auction draft was a blast. When did LBJ go and how much was the winning bid for him? Check out the draft results now.
Click to continue reading Results of Playoff Auction Draft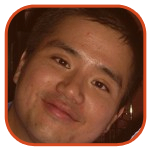 Posted by Alvin Lai Categories: Disses, H2H, Props, Site Announcements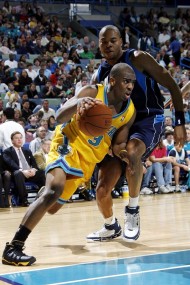 Nels from Give Me The Rock is the winner of our 2nd Experts League. He threw a little diss at us in his season recap on his site, but he's right in saying that having knowledge about the NBA and being good at the fantasy game are two different things. I find most of these industry leagues focus on the draft. I definitely put way more energy in my leagues against family and friends. Funny that Nels writes he hates Chris Paul due to something that happened in another league, but in this league, CP3 was his anchor.
Click to continue reading Nels wins our Experts League!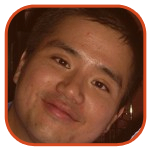 Posted by Alvin Lai Categories: Site Announcements, Site Features, Street Ball, Talent, Toronto Raptors, Detroit Pistons, Miami Heat, Dallas Mavericks, New Orleans Hornets, San Antonio Spurs, Sacramento Kings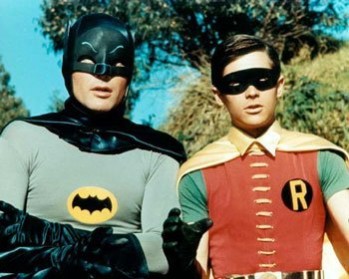 Our one-on-one tourney was a blast to conduct last year and you can click on the link to check it out. Spoiler alert! The link takes you to the winner being crowned and the page has links to all of the match-ups.
So what better way to follow that up but to double the pleasure, double the fun and make it a two-on-two tourney, people! G'yeah! There are only four more days before the regular season comes to a close. Thankfully us hoopheads have two months of playoff action to look forward to, but fantasy play dies down in favor of baseball, golf and barbeque unless you and your buddies set up a playoff pool. So check back every Sunday and give us your ten cents for the match-ups we set up for you! Who will be the "Dynamic Duo" when all is said and done?
Click to continue reading Dropping Dimes Two-on-Two Tourney Begins!

Posted by Scott Sargent Categories: Editorial, News, Props, Site Announcements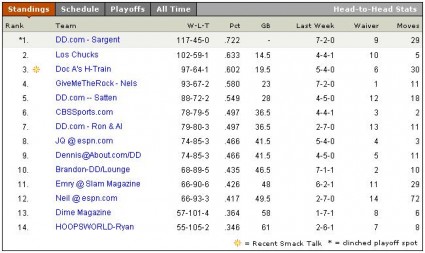 I realize that the picture may be a bit rough to decipher. Thus, here are the updated standings, in text form:
*1. DD.com - Sargent 117-45-0 .722 - 7-2-0 9 29
2. Los Chucks (Dwyer) 102-59-1 .633 14.5 4-4-1 10 5
3. Doc A's H-Train (RotoWorld) 97-64-1 .602 19.5 5-4-0 6 30
4. GiveMeTheRock - Nels 93-67-2 .580 23 7-2-0 1 11
5. DD.com—Satten 88-72-2 .549 28 4-5-0 12 18
6. CBSSports.com 78-79-5 .497 36.5 4-4-1 3 2
7. DD.com - Ron & Al 79-80-3 .497 36.5 2-7-0 13 11
8. JQ @ espn.com 74-85-3 .466 41.5 5-4-0 4 3
9. Dennis About.com/DD 74-85-3 .466 41.5 4-5-0 5 11
10. Brandon-DD/Lounge 68-89-5 .435 46.5 7-1-1 2 10
11. Emry @ Slam Magazine 66-90-6 .426 48 6-2-1 11 29
12. Neil @ espn.com 66-93-3 .417 49.5 2-7-0 14 72
13. Dime Magazine 57-101-4 .364 58 1-7-1 8 6
14. HOOPSWORLD-Ryan 55-105-2 .346 61 2-6-1 7 8

Thanks to huge weeks by Manu Ginobili and Mo Williams, I was able to overcome a slow start to last week to become the first team locked into a playoff spot.
Seeds four-through-six seem to still be up for grabs. Ron and Al are right there with CBS Sports, with JQ and Dennis not far behind. Brandon needs one heck of a run, but he's come a long way after getting hit with a barrage of injuries.
Regarding Doc A. If you recall when we last updated the league, he and I were locked in a first place tie. Since then, its been a bit rough for him, with injuries to Chris Kaman and TJ Ford, coupled with the slowing down of Jason Terry and LaMarcus Aldridge. Even better is the fact that he has Chris Webber in his Util. spot for this week. Should definitely be interesting.
Dark horse of the league? Has to be Nels from GiveMeTheRock. Kelly Dwyer has a good chance at falling out of that second slot by the time the tourney is set. Yao Ming's injury is a crushing blow to his post players. His starting C's this week consist of Troy Murphy and Jeff Foster. At least he has the Indy market cornered!

Posted by Scott Sargent Categories: Editorial, Site Announcements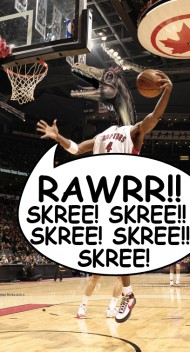 Just one of the many lovely creations over at YAYSports!
Big thanks to The Cavalier over at YAYsports! for hosting the most recent edition of the NBA Carnival. Even bigger thank you for including Dropping Dimes in the mix. Go check it out here.


And while I'm here, I may as well let you all know of a pet project of mine called The Cleveland Sports Minute. Obviously, you'll only be really interested if you're in or around the Cleveland area. But you can at least humor me by clicking on this link and telling me what you think in the comments below.
Thanks, all.

Posted by Scott Sargent Categories: Editorial, News, Site Announcements
Just to keep all of you readers updated with the happenings of the Dropping Dimes crew, I thought it would be best to give you a well-timed update on the DroppingDimes Expert League.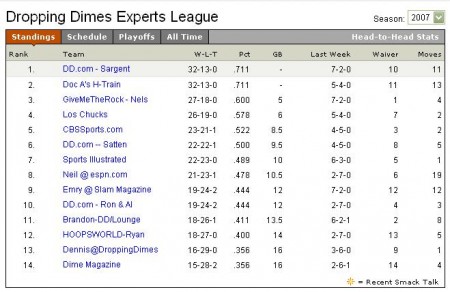 With much attribution to Baron Davis, Manu Ginobili, Marcus Camby and Mo Williams, I was able to gain a few games and knot things up with Dr. A over at Rotoworld. He has a sick team, so I don't expect to stay with him the entire time, but it was nice to gain ground on a week that didn't feature any really huge games from Kevin Garnett.
Honorable mention goes to Jamario Moon who put up 31 points, 30 boards, four steals and five blocks on the week. Well done, sir.
Click to continue reading Dropping Dimes Expert League Update

Posted by Dennis Velasco Categories: Site Announcements
Our buddies over at HoopsAddict.com have got a fantasy basketball survey going on. Check out the post, which will lead you to the survey. You can even win a prize IF you answer the survey before the end of the month! Word.
© Gear Live Media, LLC. 2007 – User-posted content, unless source is quoted, is licensed under a Creative Commons Public Domain License. Gear Live graphics, logos, designs, page headers, button icons, videos, articles, blogs, forums, scripts and other service names are the trademarks of Gear Live Inc.