Posted by Brandon Haraway Categories: Trades, New Orleans Hornets, Seattle Supersonics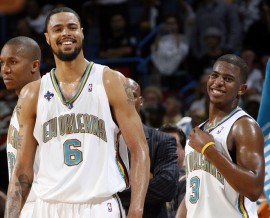 In a deal that appears to be mostly financially-driven, the Hornets sent Tyson Chandler to their once stand-in hometown of Oklahoma City for Chris Wilcox, Joe Smith, and the draft rights to DeVon Hardin.
I think in a pure basketball sense, it's a good move for both teams. Obviously, the Hornets may have lost the value end of it, but they get back a saavy veteran and a guy who can hold his own down low. Chandler was having a bad season anyway, and Wilcox hasn't been getting off the pine.
Fantasy-wise, Chandler will start in OKC, sending Nick Collison to the bench. He takes a big hit in value and Nenad Krstic becomes droppable in every league. Of course, either could see minutes at the four, but it won't likely be many.
As for New Orleans, Wilcox will just take Chandler's place in the starting lineup. Smith will likely back up David West, and Hilton Armstrong will continue to see his limited minutes backing up Wilcox.
Big winner? Wilcox, because he'll actually get to play some minutes.
Posted by Brandon Haraway Categories: Trades, Toronto Raptors, Miami Heat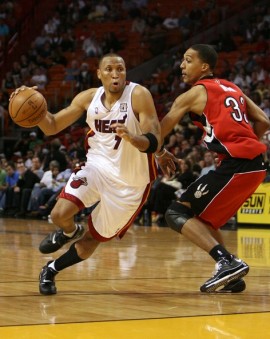 In a deal expected to be finalized Friday afternoon, the Miami Heat traded Shawn Marion and Marcus Banks to the Toronto Raptors for Jermaine O'Neal and Jamario Moon.
Has a guy ever been traded hours after hitting a game-winner? Well he has now.
Anyways, this trade better suits the Heat's system, and fulfills Pat Riley's desire for a big. But for Toronto, it makes them a legitimate playoff team. At the moment, they are second-to-last in the East, but only four games out of a playoff spot. This gives them a trio of Jose Calderon, Marion, and Chris Bosh that might be capable of going on a tear and making some noise.
As far as fantasy goes, one has to assume Marion's numbers go up. We'll likely see Bosh play some center and Marion play at the four, because behind O'Neal, was Jake Voskuhl on the depth chart. Winners here are Marion, Jason Kapono, and Joey Graham. They'll be picking up Moon's minutes plus some of the minutes created by the shifting around of Bosh to center.
On the Miami side, not much should change. They basically had no center, so this helps there. Michael Beasley might get some more minutes, and it remains to be seen if Moon starts. If not, Beasley would likely get the nod. This effectively kills any value that Jamaal Magloire and Joel Anthony had in deep leagues.
I'm predicting some noise made by Toronto…
Posted by Brandon Haraway Categories: Disses, Injuries, Props, Trades, Boston Celtics, Toronto Raptors, Cleveland Cavaliers, Detroit Pistons, Milwaukee Bucks, Atlanta Hawks, Orlando Magic, San Antonio Spurs, Portland Trailblazers, Utah Jazz, Golden State Warriors, Los Angeles Lakers, Phoenix Suns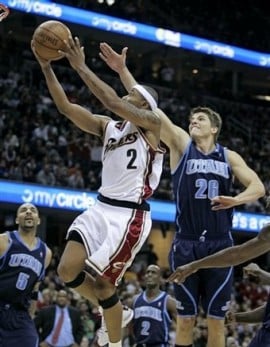 Well, look at that. A few upsets. WE HAVE PARITY IN THE LEAGUE! Toronto beat San Antonio, Utah beat the Lakers. Denver also beat Orlando at home, and was up pretty big at one point. And that battle of up-and-coming teams we alluded to yesterday? The better team in the current won quite easily. But let's jump into some lines.
Wednesday's best: Mo Williams: 44 points, 7 assists, 4 rebounds, 4 steals, and 600 three-pointers made. Ok, only 7. Yeah, he must have heard some people STILL complaining about his All-Star credentials and decided he'd go nuts. I saw this game, and he was making some incredible shots. And this folks, is why the Cleveland Cavaliers will win the Larry O'Brien Trophy. Did I just say that? In February? Yep. You heard it here first.
Honorable mention to Ramon Sessions and his 17 dimes. Wow.
Wednesday's worst: Mike Bibby and his whopping 5 points and 4 dimes on top of 3 turnovers. Somehow the Hawks still topple the Pistons. Things are bad in Detroit.
Keep an eye on: The Phoenix Suns. They lost to the Cavs tonight in their last game before their break, and probably their last game with this roster. Keep an eye on things because here's something scary: Steve Nash sat out. It was various aches and pains, and whatever else. Yeah, yeah. What worries me is that he didn't sit on the bench. Apparently he was in the locker room. Implosion pending…
What to watch for tomorrow: I wonder if anyone will actually try tomorrow. What a tough day to be a coach, when half your team is double-checking its tee times or RSVPing for parties in Phoenix. Good thing there's only three games, but two are semi-interesting. The Celtics stop in Dallas on their way to the All-Star Game, and Portland takes on Golden State. That second game would be fun to watch, but somehow it's not the TNT game. Oh well.
Posted by Brandon Haraway Categories: Rumors, Trades, New York Knicks, Toronto Raptors, Chicago Bulls, Detroit Pistons, Miami Heat, New Orleans Hornets, Portland Trailblazers, Phoenix Suns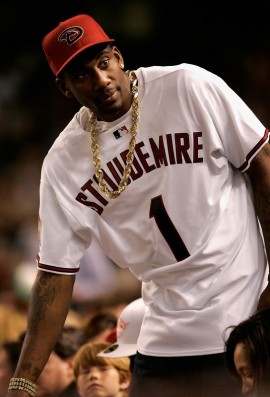 A flurry of trade rumors have surfaced recently with the deadline now just less than two weeks away. That being said, let's take a look at some of the newer and more credible rumors and what they may mean to your fantasy team.
Amar'e Stoudemire
Oh boy, where do we start here? He's rumored to be going anywhere from New York to Detroit to Toronto to Portland to Chicago. Various outlets have reported GM Steve Kerr's willingness to deal anyone on the team not born in Canada. Besides STAT, Shaquille O'Neal is also rumored to be on the block (along with the whole team), but chances are even his All-Star season can't make up for the contract he's carrying around. While possible, that seems a little less likely.
The Fig Cap: What jersey will he be wearing on Opening Day?
Click to continue reading Trade Winds Blow, Are Your Teams Ready?

Posted by Scott Sargent Categories: News, Trades, Charlotte Bobcats, Phoenix Suns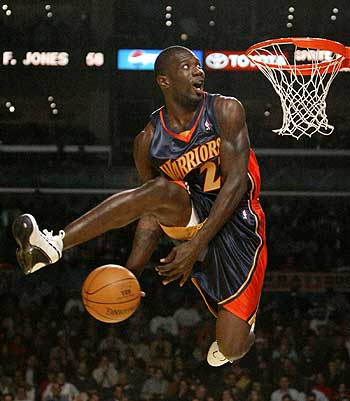 I knew that the Suns and Bobcats were recently placing their players on the respective trading block, but I am admittedly surprised to see the multi-player deal that went down between the two teams. With Charlotte getting Raja Bell, Boris Diaw and Sean Singletary for shooting guard Jason Richardson, forward Jared Dudley and a draft pick, we have some changing landscapes among the ranks.
Click to continue reading Trade Reaction: Suns/Bobcats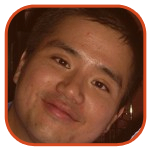 Posted by Alvin Lai Categories: H2H, Site Features, Sleepers, Talent, Trades, Waiver Pick Ups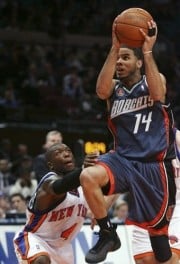 Ron Chow and I continue to watch our team roll in our Dropping Dimes experts league. We have held on to our first place ranking with a 28-8 record. As for the other Dime droppers, Dennis Velasco and Brandon Haraway sit in playoff position, 5th and 6th place, respectively. Sarge and his squad have struggled and rank 12th in a 14-team league. Who's the caboose thus far? Jon Loomer from NBA.com and his "Loomer's Losers" have been, well, losing. His team has averaged a 6-3 loss in league play thus far.
I have been checking out waiver wire articles from various sites, and more often than not, every player listed was drafted or was picked up many days ago. Hopefully by listing the pick-ups from 10-, 12- and 14-team leagues, you can get the sense of what is happening around the fantasy world, and land some of these blue chip waiver wire players.
Click to continue reading Exchange Center: Week 5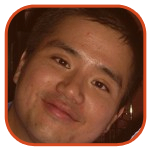 Posted by Alvin Lai Categories: Atlantic Division, Boston Celtics, New Jersey Nets, New York Knicks, Philadelphia 76ers, Toronto Raptors, Central Division, Chicago Bulls, Cleveland Cavaliers, Detroit Pistons, Indiana Pacers, Milwaukee Bucks, Editorial, H2H, Injuries, Northwest Division, Denver Nuggets, Minnesota Timberwolves, Portland Trailblazers, Seattle Supersonics, Utah Jazz, Pacific Division, Golden State Warriors, Los Angeles Clippers, Los Angeles Lakers, Phoenix Suns, Sacramento Kings, Rookies, Roto, Site Features, Sleepers, Southeast Division, Atlanta Hawks, Charlotte Bobcats, Miami Heat, Orlando Magic, Washington Wizards, Southwest Division, Dallas Mavericks, Houston Rockets, Memphis Grizzlies, New Orleans Hornets, San Antonio Spurs, Talent, Trades, Waiver Pick Ups
Dropping Dimes is trying out a new feature. Fantasy 30 intends to rank all of the NBA teams in terms of fantasy power. A list like this tends to lead to a lot of disagreement and discussion, but the hope is that these rankings will be fluid and updated as the year goes on. Thanks to Ron Chow for the assist. In addition to publishing updates on the Fantasy 30, once in a while we hope to produce sister articles that focus on a specific team and its roster.
#1: Los Angeles Lakers: Kobe Bryant ranks as a top four fantasy player this year. The Lakers employ two fantasy-worthy starters for center in Pau Gasol and Andrew Bynum. Lamar Odom has played well coming off the bench. Jordan Farmar has sleeper point guard potential, and the team also employs three-point threats like Derek Fisher and Vlad Radmanovic. All of this adds up to the Lakers being top dog early in the year.
Click to continue reading Fantasy 30, Version 1

Posted by Scott Sargent Categories: Trades, Detroit Pistons, Denver Nuggets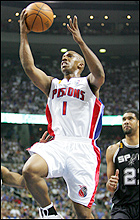 The Boston Globe is reporting that the Denver Nuggets are working on a deal that would send Allen Iverson to Detroit for Chauncey Billups and Antonio McDyess. With Billups making about half as much as Iverson, McDyess (now relegated to the bench) is obviously a piece of the trade puzzle to make the salaries match.
The Nuggets are clearly in salary dumping mode, but what does the deal possibly mean for fantasy owners?
Click to continue reading Rumors: Nuggets to Swap Iverson for Billups?

Posted by Dennis Velasco Categories: Editorial, H2H, Northwest Division, Denver Nuggets, Pacific Division, Los Angeles Clippers, Props, Site Features, Trades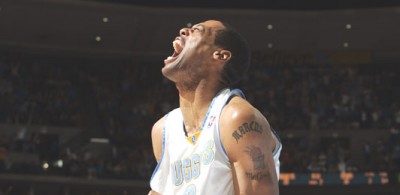 The Fig Cap: Upon hearing news of his trade from the Nuggs to the Clips, Camby replied, "NOOOOOOOOOOO!"
Yeah, Marcus Camby is no longer a Denver Nugget, which absolutely makes no sense considering he was traded for an OPTION of a second round draft pick from the Los Angeles Clippers. Yes, Camby will be in the Clip Joint, but how happy will he be going from a playoff-caliber team that has the presence of Allen Iverson and Carmelo Anthony to a team that historically "messes it up." Okay, so the signing of Baron Davis could work out very well for the Clips, but still… it's the Clippers! Which is why I don't understand how they got Camby for NOTHING! Yeah, I know… the Nuggs were shedding salary and clearing up cap space. Ugh… still ugly.
What WON'T be ugly, however, is getting the Camby Man on your fantasy squad.
Click to continue reading Dropping Dimes Mock Draft: Round 2, Pick 5 - Marcus Camby

Posted by Scott Sargent Categories: Free Agency, H2H, Roto, Southeast Division, Charlotte Bobcats, Trades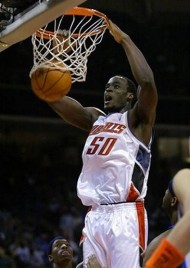 ...Will continue to be produced in Charlotte.
Not to be outdone by Andris Biedrins, the Charlotte Bobcats signed offense-less big man Emeka Okafor to a six year, $72 million deal. There were a few rumors of a sign and trade, but one look at the rest of the low post players on the Bobcats' roster, and there was a very slim chance that this would happen. I can't imagine that Larry Brown has a ton of faith in Sean May staying healthy this year, and the Ryan Hollins/Nazr Mohammed combo isn't exactly the most prolific in the game.
Click to continue reading Emeka Okafor's Blocks and Boards…
© Gear Live Media, LLC. 2007 – User-posted content, unless source is quoted, is licensed under a Creative Commons Public Domain License. Gear Live graphics, logos, designs, page headers, button icons, videos, articles, blogs, forums, scripts and other service names are the trademarks of Gear Live Inc.